Answer: There's no right or wrong answer for whether you should enable autoplay. It's ultimately a functionality trade-off with pros and cons. Here are some important factors to consider to help you make a decision:
✅ Pros
There are many positive aspects of enabling autoplay, as it can:
Draw customers in

with engaging, eye-grabbing content.

Present commercials and advertisements.
Demonstrate how your product works immediately; a survey found that 73% of people are more likely to make a purchase when they can see a video explaining how it's used.
Display reviews and testimonials from customers.
❌ Cons
However, there's a reason many browsers block the autoplay functionality. Autoplay can be unappealing for users, as it can:
Annoy users

; a

survey

found that 71.2% of people find autoplayed videos 'annoying'.

Drain the customer's battery on mobile devices.
Increase data consumption on mobile devices.
Take customers away from the site; if your customer uses a browser that disables autoplay, they may need to click on the video and be taken to an external video platform to view it.
Behave inconsistently from user to user, depending on which browser is used.
Appear differently according to whether your user has a mobile or desktop device.
Reduce the page speed.
For more information about the autoplay functionality, including other common queries relating to autoplay, please continue reading this article.
---
How do I enable/disable autoplay?
When adding a video to your theme, you can control whether it plays automatically or not. Here's how to enable autoplay on a video, or disable a video that is already set to autoplay:
Step 1: Go to your Theme Editor.
Step 2: Go to the page template you wish to add a video to and click Add section. Then choose a video section.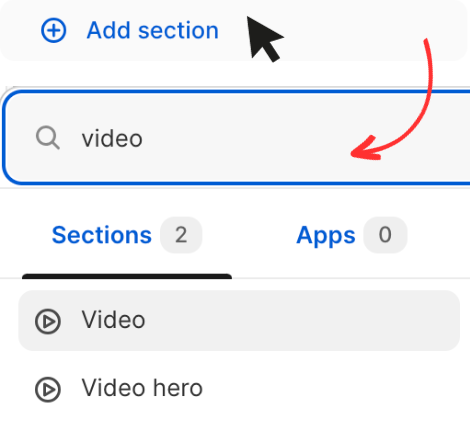 Or, select a video section that you've previously set up.

Step 3: Click into the section to see its settings.
Step 4: Scroll down to Autoplay. Checking the box to enable autoplay and unchecking the box will disable it.

If you're enabling autoplay, you may notice when testing your storefront from various devices that even when autoplay has been enabled within your theme, your videos do not play automatically upon entering the page. Unfortunately, this is due to browser restrictions.
---
Why won't my video autoplay?
While it's possible to enable autoplay on a video within your theme, the ability to autoplay is ultimately controlled by internet browsers. All themes and video hosting services must adhere to browser restrictions.
Browser restrictions
As a general rule, most browsers disable the autoplay function on videos with sound - even when autoplay has been enabled within your theme.
Enabling autoplay on your theme cannot override the autoplay block from browsers. This is the same for every theme across Shopify.
Historically, autoplay has been disabled for videos on mobile devices. However, this has now extended to the majority of desktop browsers. This is in order to:

Improve user experience
Minimize incentives to install ad blocker
There are many browsers to choose from, each with its own individual policy towards autoplay videos. However, similar patterns can be found through the autoplay policies of major browsers.
Main browser autoplay policies
| | | | | |
| --- | --- | --- | --- | --- |
| Browser | Platform | Unmuted autoplay | Muted autoplay | Exceptions |
| Chrome | Desktop/mobile | ☑️ Sometimes | ✅ Yes | Unmuted autoplay possible when a site has enough points on Google's scoring system. |
| Safari | Desktop | ☑️ Sometimes | ✅ Yes | Unmuted autoplay possible for larger sites, like Facebook and YouTube. |
| iOS | Mobile | ❌ No | ✅ Yes | N/A |
| Firefox | Desktop/mobile | ❌ No | ✅ Yes | N/A |
This table shows that, while autoplay on videos with sound is almost always blocked by the browser, muted videos are often allowed to autoplay.
---
What affects my chances of autoplay working?
Due to restrictions across so many browsers, there's no way to guarantee that your video will autoplay for your customers. However, whether your video is muted or unmuted affects the chances of your videos being played automatically.
Videos with sound
We do not recommend enabling autoplay on a video with sound, as it will likely be blocked by the browser.
If you are insistent on enabling autoplay on a video with sound, opt to use a standard Video section instead under Themes > Customize > Add section.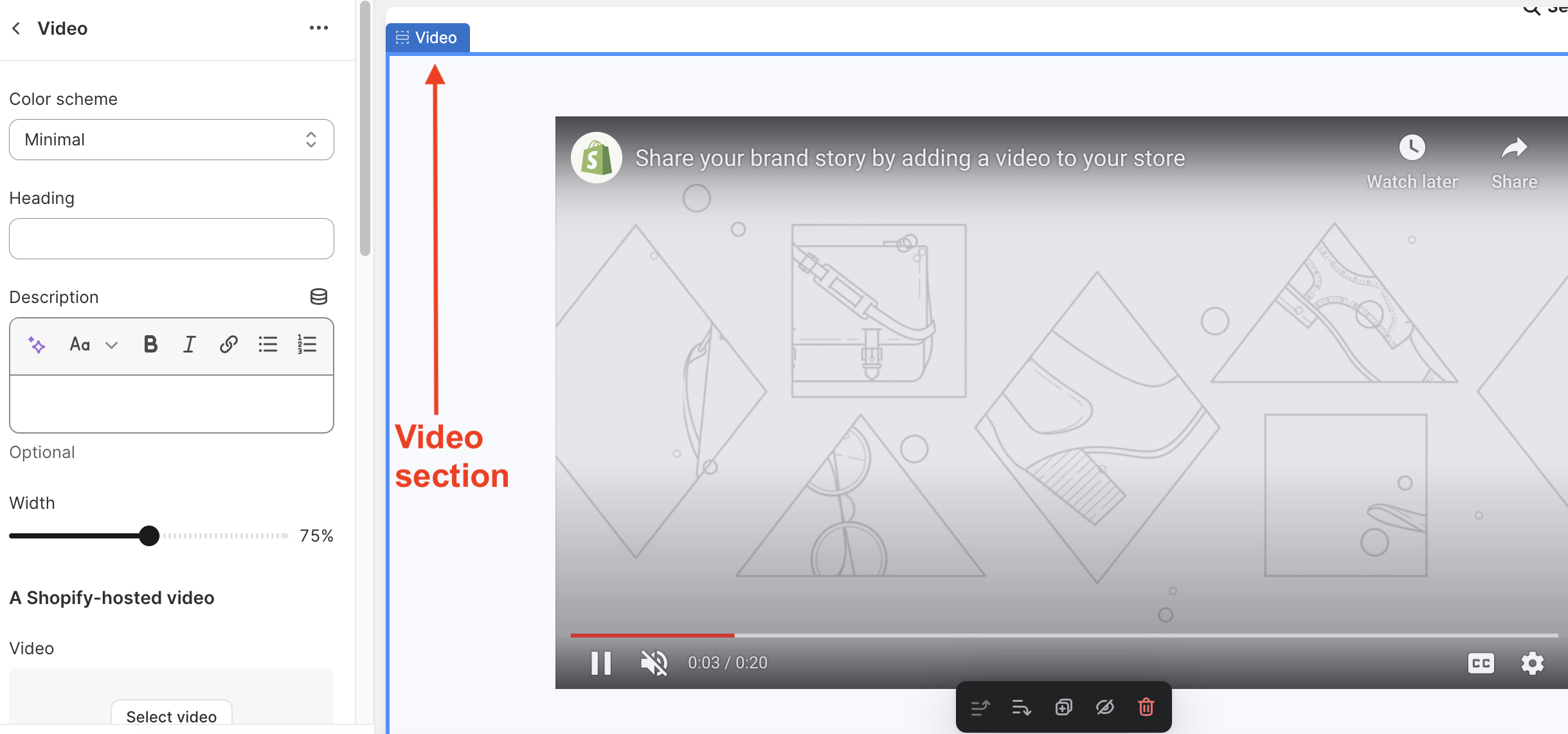 However, it's important to understand that this is a risk. The instruction to autoplay will likely be blocked by the browser, and there's unfortunately no way to guarantee this doesn't happen.
If you're adamant that this option is best for your store, we recommend contacting a Shopify expert to discuss the options you have for making your autoplay videos visible to as many users as possible.
Videos without sound
As you can see from the table above, the majority of browsers will still allow autoplay on videos without sound. Therefore, if video is an essential part of your store, consider muting your videos in order to increase your users' chances of viewing your content.
While it increases the chances, muting your videos does not guarantee they will be played automatically on every browser. As mentioned before, this is a limitation outside the theme's control.
Across Shopify themes, muted videos are frequently used for large, full-width video backgrounds that may have text or other elements over them. Here at Eight, we call this a Video hero or Video with Text Overlay, and this can be found under Themes > Customize > Add section.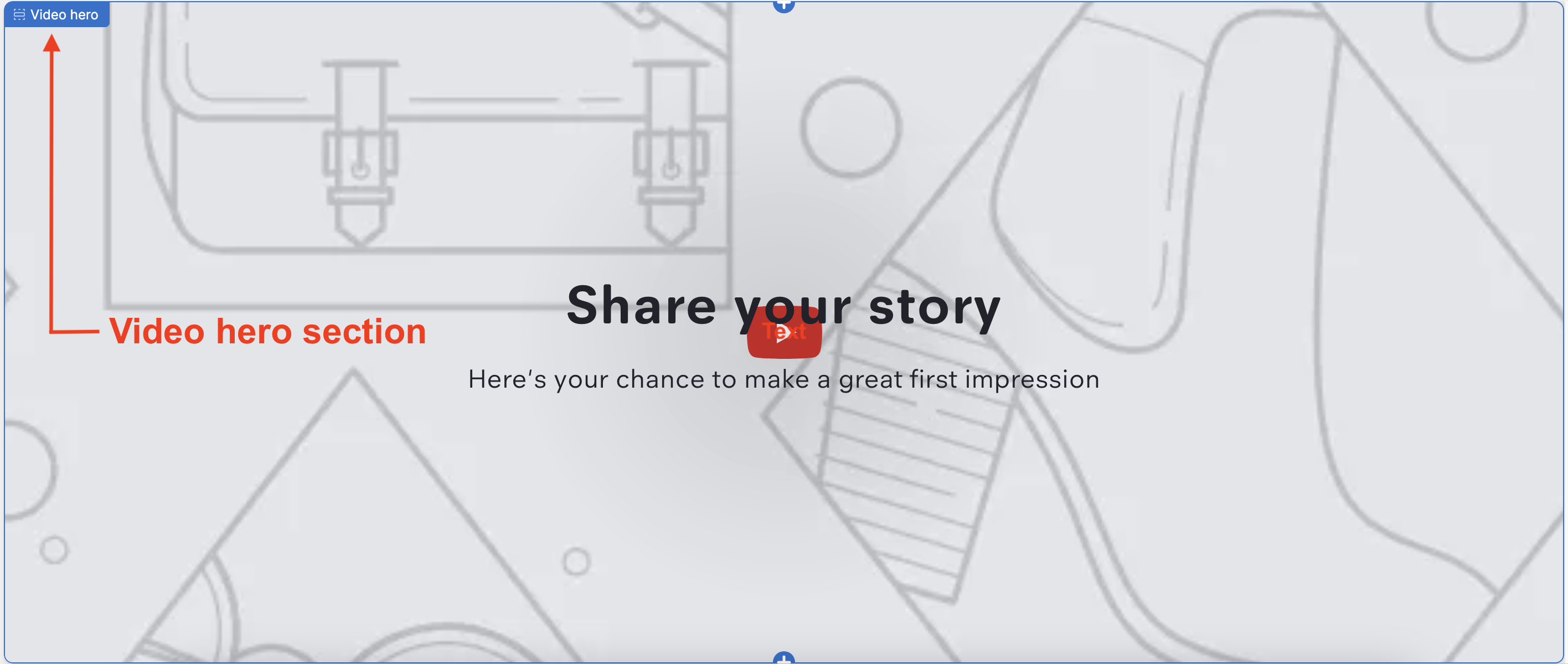 Video hero or Video with text overlay sections are muted by default for this reason. They are designed purely to display video without sound. This greatly increases the chance of autoplay working on your storefront for as many users as possible.
Our recommendations
Every store has different priorities, and only you know what's best for yours. If you choose to enable autoplay on your videos, we have some general recommendations for getting the most out of this functionality.
🌟 We recommend muting your videos or using the pre-muted Video with Text Overlay feature.
🌟 We recommend using closed captions on your videos, as a substitute for the sound.
🌟 We recommend ensuring that your site still functions without your autoplayed video, in case a user enters your site on a browser that blocks it.