At Eight, the team are constantly working on ways to improve our themes by adding and optimizing features. When an update is made, a new version of the theme will be created.
If you would like the most up-to-date theme updates, you can update your theme version for free - so long as you use the same Shopify account that you originally used to purchase the theme.


Pros
Updating your theme is a great way to ensure that you are getting the most out of the theme you have paid for. In updated theme versions:


✅ New features may have been added.
✅ New sections may be available.
✅ Theme optimization is constantly rolled out (such as addressing page speed)
✅ Bugfixes may address issues from your current theme
✅ The UX (user experience) may have been improved
Note:

For a comprehensive insight into what the latest theme version includes, please read the Changelog.
Cons
It is important to note that the update is not applied to your current theme version - instead, a wholly blank theme version will be added to your theme library under Online Store > Themes. Therefore, there are some important considerations to make before updating your theme version:


❗️ Your Theme settings will need to be reapplied to your new theme version.
❗️ App code snippets may also need to be added back in.
❗️ Any newly available Sections may need setting up.
❗️ Any custom coding that has been added to your current theme version, must be transferred over to the new blank theme.


Anything configured through your Shopify admin (such as products, content, settings, etc) should be unaffected on the backend - they will just need to be linked back up on the storefront.
Note:

If you need help with transferring custom code over from one theme to another, we recommend reaching out to a coding customization specialist as our support team will not be able to assist you.
---
Step 1: Go to Your Theme's Listing in the Theme Store
As long as you are logged into the Shopify account that you purchased your theme with, you will be able to see an option to add the newest version of the theme.
Go to your theme listing in the theme store.

Next to the View demo

option, select

Add latest theme version

.
---
Step 2: Update Your Theme Settings
As your new theme version will have its default settings in place, you will need to reapply your storefront's settings.
Within the theme editor, scroll down the left-hand menu.

Select Theme settings

.
---
Step 3: Reassign Any Apps & Custom Code Snippets
If you have installed any apps onto your old theme version, ensure that these apps have been installed on your new theme version if required.
If you have customized your old theme's code, be sure to reapply these changes to your updated theme:
Under Sales Channels with your Shopify admin, go to Online Store > Themes.
Select your theme.
Click Actions

, and select

Edit Code

from the drop-down menu.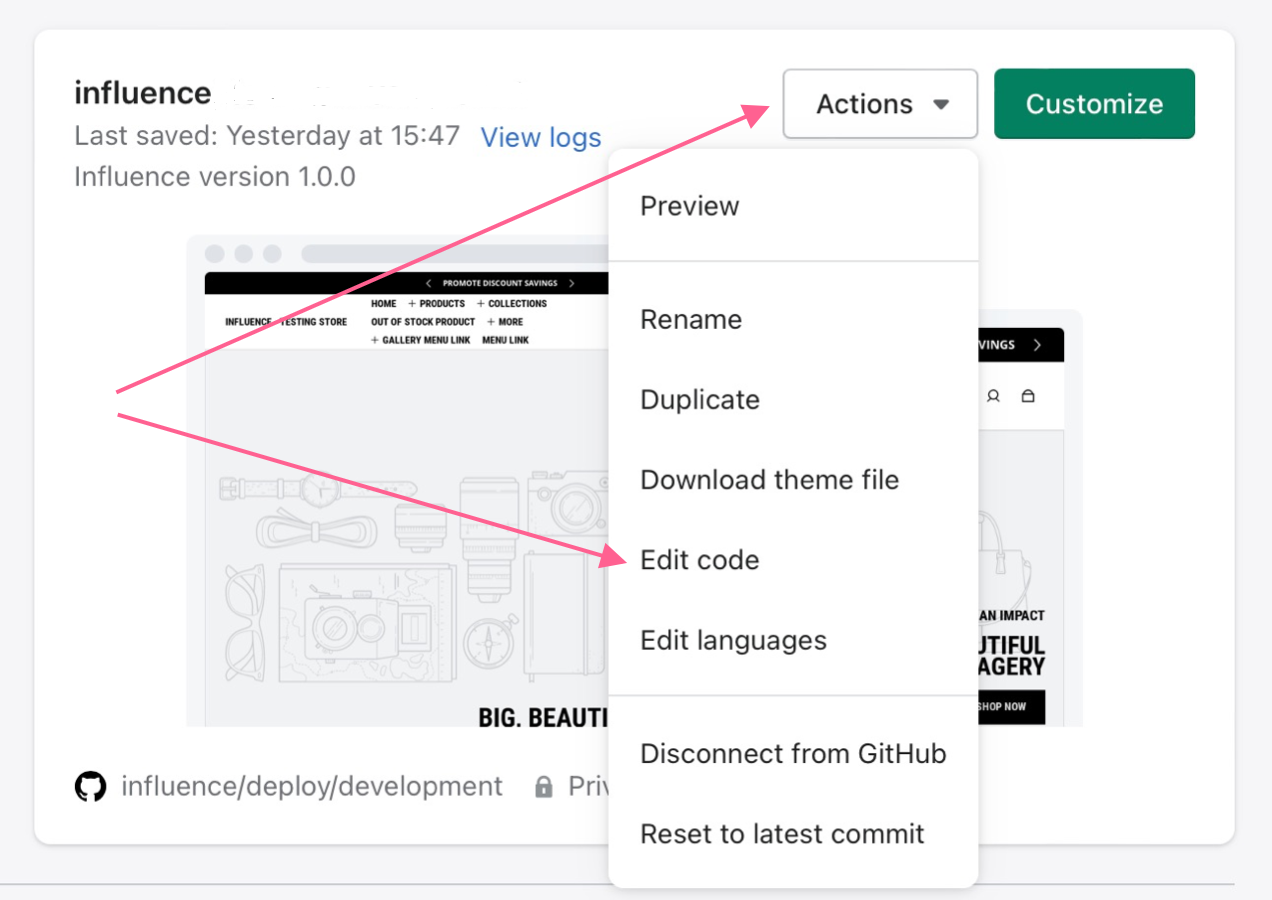 ---
FAQs
How can I find my theme version?
You can locate the version of your theme by clicking the 3 dots next to 'Live' or 'Draft', in your theme editor. This will display your theme name, and version number.

Can I get a refund on my theme?
Here at Eight, we are not able to provide refunds on theme purchases.
Themes are non-refundable because they are digital goods. This means full access is immediately granted to all the theme's files and code after the purchase of a theme licence.
Once the theme has been installed on your store (or the .zip file is transmitted to you), there is no way for us to revoke access to it, or prevent merchants from continuing to use the theme.
With no means to return the purchase, there are also no means to refund the purchase.
We would always recommend taking advantage of the unlimited free trial of the theme, to make sure it's the correct one for you before purchase.